The LUMI is thrilled to add the classic 4 Acre Motel sign to our museum collection, thanks to a tip from photographer Tom Barnhart who first spotted it and was good enough to text a photo to Nick. We date this beauty to about 1955. If you happen to see this and can tell us otherwise, please do at info@thelumineonmuseum.org. 
The 4 Acre Motel, once located at 8220 Hickman Mills Drive, billed itself as Kansas City's most accommodating roadside motel.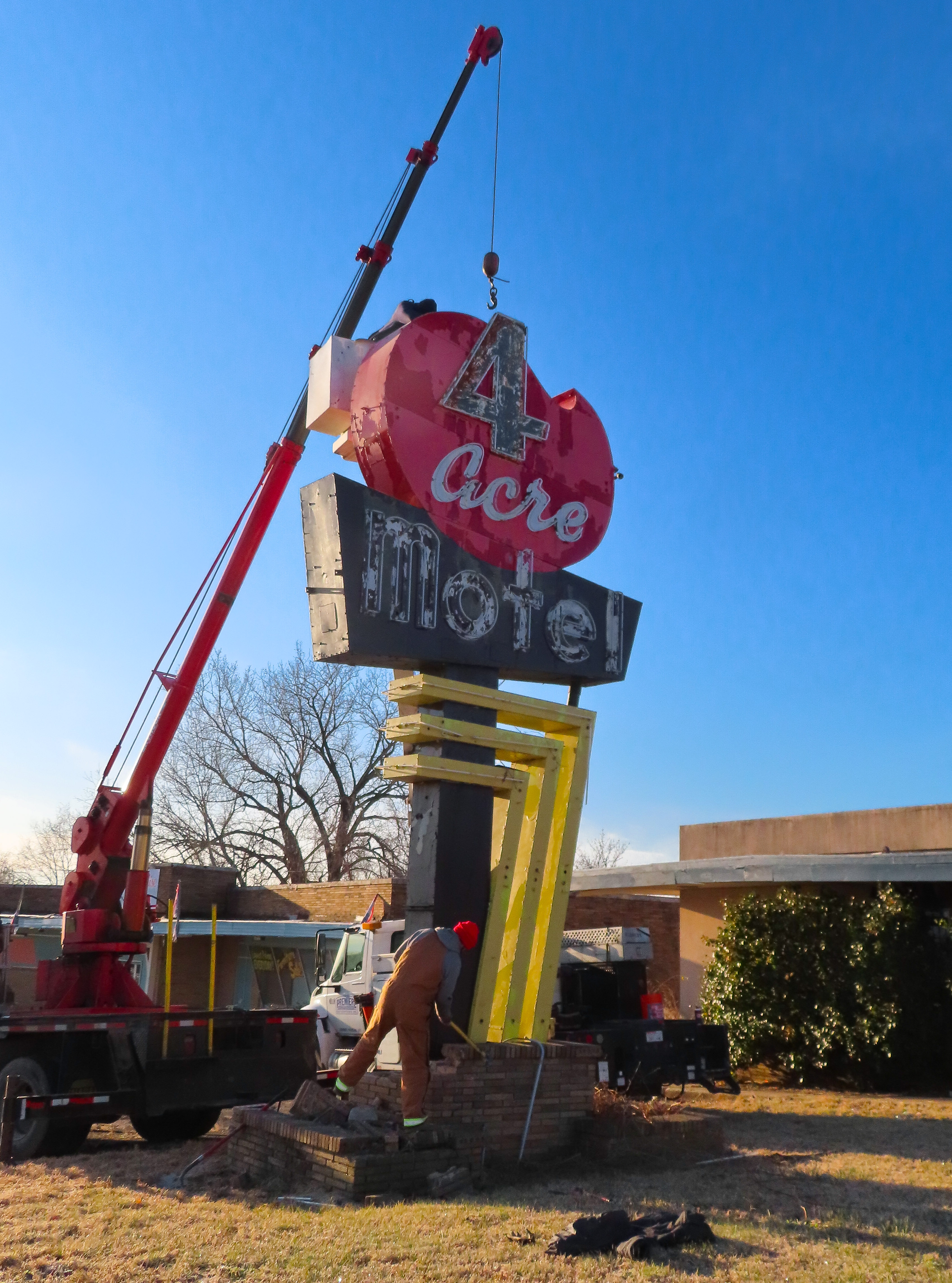 With its 24 spacious rooms in a "Liberty-style" building, a family restaurant, cocktail lounge, 24-hour office, complementary self parking, housekeeping, and a vending machine (for crying out loud,) the 4 Acre was convenient to the Kansas City Zoo, Starlight Theater, the Lakeside Nature Center, Fairyland Park and many must-see Kansas City attractions. And get this–it is rumored that Marilyn Monroe once stayed there.
But after decades of friendly service, followed by a decline in business, the landmark 4 Acre closed around 2016. Soon after, vacancy turned to vagrancy and ultimately a fire gutted the motel office.
The classic, 25-foot tall, porcelain and neon 4 Acre sign has been in the sights of LUMI since Tom's tip, but acquiring the sign has been a lengthy process. Even as the motel sat closed and vacant, its owners did not care to give up the sign. But in 2019, our luck changed, thanks to another tip.
When nearby resident Jonathon Harm read about the LUMI museum, he contacted the museum about the sign and informed us of the pending change in 4 Acre ownership. Nick successfully located Mr. Bokim, the new property owner who had plans to redevelop the property for a different use. He now wants to sell the property. Mr. Bokim met with Nick and in June of 2019 graciously agreed to donate the sign to the LUMI 
On a wintery day in December 2019, the sign was rescued and taken to storage where it awaits restoration.
If you know more about the 4 Acre Motel sign and its history, please contact lumineonmuseum.org. We'd love to hear from you and keep our readers accurately informed.
If you'd like to help restore the 4 Acre sign, or help restore one of our other neon beauties, become a sign sponsor.