We bet you didn't know that the LUMI Neon Museum has one of the country's foremost sign experts on our Board, and more importantly, in the trenches, bringing these beautiful neon signs back to life!
Curtis Shaddox & LUMI on location watching the Western Auto sign being repaired in 2018. Infinity Sign Systems restored Kansas City's most iconic neon sign.
Meet Curtis Shaddox – LUMI's hardest working restoration master. In the past two years, Curtis has worked hundreds of hours restoring LUMI's most exciting (and largest!) signs. Just this past month he toiled in the hot July sun restoring the Broadway Hardware Sign to its former glory. As if that's not enough, he also heads the Rescue, Restore & Illuminate Team to take down the neon signs, transport and store the signs for future restoration. All on a volunteer basis.
What you might not know is that Curtis is known throughout the country for his sign and illumination work. He's worked with international architectural and engineering firms to design and install million-dollar lighting projects for sports arenas, movie theaters and casinos (talk about a ton of neon and amazing lights at casinos!) just to name a few.
"Let's face it, Curtis has forgotten more about the sign business than I'll ever know," claims Nick Vedros, President of the LUMI Neon Museum of Kansas City. "We wouldn't have the 47 signs we have currently without Curtis," adds Vedros. "He's a wonderful businessman, very strategic, and always one step ahead of me with timelines, budgeting and direction as he thinks his way through the project and beyond."
Experts in the sign business agree about Curtis' knowledge and expertise. "There's no way someone who's not in our field can imagine the magnitude and difficulty of restoring an 83- year-old sign like the Broadway Hardware sign, especially in your driveway, in July," said Randy Steinmetz, 42-year veteran in the sign business and Owner of Steinmetz Neon. "When it comes to LUMI, Curtis is all in. For him it's about what he can put into the museum, not what he can get out of it," Steinmetz adds. "Curtis is a top notch, amazing, all around sign guy. Detail oriented. He has mastered signage from conception to implementation to final display."
Curtis Shaddox July 9, 2020 with the historic 1937 Broadway Hardware sign.
A little background
Born in Kansas City in 1964, Curtis' dad, Ray Franklin Shaddox, mentored him throughout childhood. His dad could make or fix anything! Curtis went on to graduate from Aerospace school just as the aircraft industry was laying off thousands of workers. As luck would have it, his next-door neighbor worked for Acme sign and thought it would be a great place for Curtis. He married his wife, Kerri Lea Shaddox (Kirk) in 1988.
Curtis started at Acme in sign construction and lighting over 25 years ago and has played a role in building some of the most iconic signs in the country and even in Puerto Rico. Through the years, he's worked with Acme Sign, Dimensional Innovations and Infinity here in KC, then independently on consulting engagements all across the country. He's invented new technologies in signage and dynamic lighting environments including, "Thin Film Solar," signage application.
Why do some of the country's best architects and engineers seek him out? Because he can take a design started on a napkin (really, he's done that), through every step of the production process, including identifying emerging lighting tech, creating and managing the budget, resources and timeline of the build, all the way through sourcing the materials and overseeing the manufacturing and installation of his work. He can really do it all.
And, so far, that's exactly what he's done for LUMI – we are so lucky!! Curtis has helped locate signs to save, research ownership records so we can get clear ownership rights, track down signs in basements and backyard boneyards. He's assisted in nearly every sign's removal – including that massive Broadway Hardware sign. Curtis has worked tirelessly to restore signs as well.
Below: The restoration on the "Arrows" sign he recently completed in collaboration with Steinmetz Neon.
Here are a few more examples of Curtis' amazing work illuminating the world!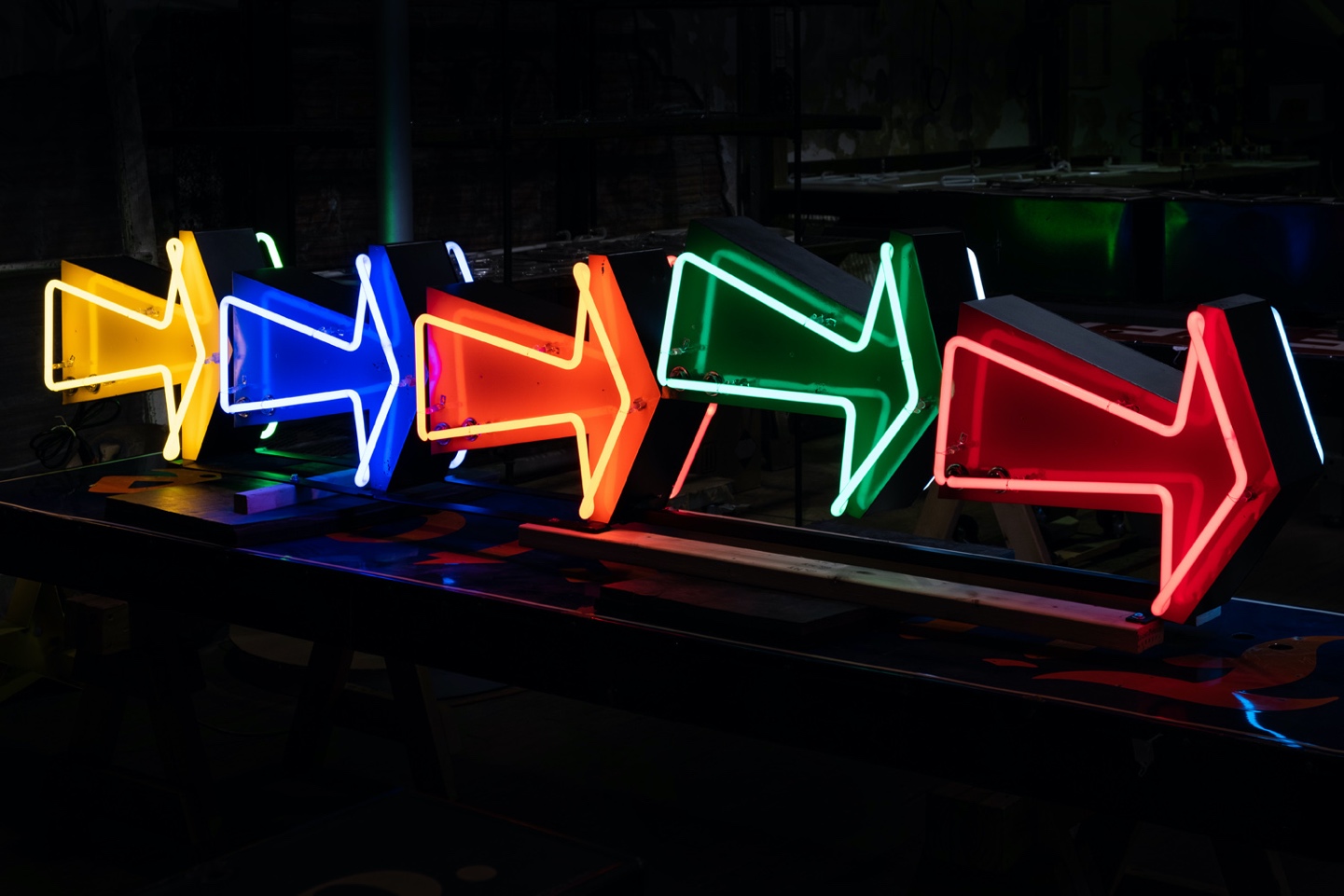 Swirk Jewelry
Swirk – Now a restored sign in the LUMI Neon Museum collection.
Just 15 years old at the time, Russian immigrant and watchmaker Ben Swirk opened his downtown Kansas City Watch repair business in 1910. Three generations later, Brian Swirk became its namesake. And after 107 years of operations, 52 of those years at 310 W. 47th Street on the Country Club Plaza, Swirk Jewelry closed its doors in 2017. Brian was kind enough to donate the Swirk sign to LUMI in 2017. Curtis went to work restoring this sign which was originally installed on a stucco wall. He mounted the neon letters and wired them as well as the bars that frame the logo and positioning the word Jewelry.
Harrah's Casino Main Entrance
What a masterpiece! The project was created from a concept drawing. Curtis developed construction methods for the structure and animated lighting solutions for this main entrance. The cone structure was fabricated with all aluminum materials and white lexan faces. He used programmable neon for the color changing sections of the 40' tall cone. The 6' tall coins are illuminated by eight colored flood lights. The flood lights are controlled by a Rolcox flasher. The Harrah's features 6' tall letters. Each contain 11 watt incandescent bulbs that are spaced three inches on center. The bulbs are programmed for random flash on/off.
Curtis working on the Harrah's top frame work Column in 1994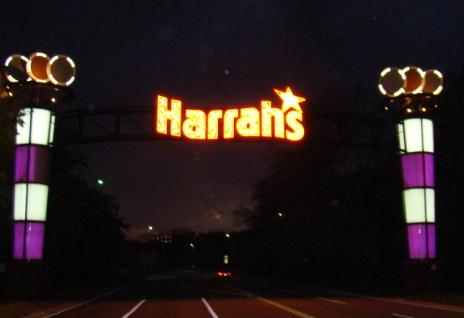 Curtis developed construction methods to create the exterior blade sign, main entrance signage and marquee. He assisted in the design of the large signs into manageable sizes for shipping with all of the lighting pre-installed. He also assisted with design on the internal and external steel support structure for the blade sign. He worked with the LED message center vendors to meet budget and viewing distance requirements. The historical nature of the project required the new signage to mimic the 1927 version.
Additional projects designed and installed by Curtis:
AMC Chandelier and illuminated walkways – LA/Century City
Milwaukee Heat Bradley Stadium
Cupertino AMC Exterior interior and exterior blades to meet earthquake zone requirements KCP&L Neon Clock
KCP&L Blue Wall
Sprint Arena Lighted Walls
KCATA MAX Bus Shelters and Markers
Harrah's Casino Main Entrance
AMC Main Street Movie Exterior signage
AMC Mainstreet Lighted Surrounds, curved ceiling lights and illuminated banners and restroom walls
"LUMI is lucky to have Curtis on our team I don't know what we would do without him" says Nick Vedros As we continue to get signs sponsored Curtis will direct us to illuminate these historic signs properly. One of our next big projects is to restore the I-70 Drive sign.